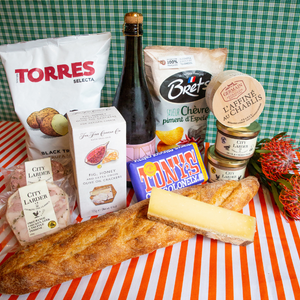 Looking for a taste of France! Why not spoil someone who deserves a treat of jarred gems and indulgent snacks?
✹ Torres Black Truffle Crisps 
✹ City Larder Pâté
✹ City Larder Terrine
✹ Fine Cheese Co Honey Fig Crackers 
✹ Brets Fromage du Jura Crisps 
✹ Comte Vagne 18mths 150g
✹ Affine au Chablis 
✹ Sourdough baguette 
✹ Tony's Chocolonely
✹ Bellussi Prosecco 
Please note, all hampers are filled with products that are seasonal and produced on a small scale. If there are unavailable items, products may be switched with something similar but just as delicious.
Some more deets!
Torres Black Truffle Crisps
Discover the unique flavour of our special premium potato chip recipe with authentic black summer truffles.

Be captivated by the intense aroma with sweet and fruity notes that will convert this snack into a real treat for the senses.

City Larder Pâté
Popular with both adults and kids, this pate makes an elegant entree served with salad and chargrilled toast or added to a charcuterie plate. As one of the more commonly-known forms of charcuterie, pate is traditionally made from livers and is most often served with bread, toast or crackers.
Fine Cheese Co Honey Fig Crackers
Intentionally subtle, so as to never overwhelm the cheese. Flavoured with fig and a drizzle of honey. 
Brets Fromage du Jura Crisps
Crinkle-cut chip goodness that is flavoured with real French Comté from Jura. 
Comté Vagne 18 mths
Comté is distinguished by its pressed body. It is baked from an uncooked milk product in an AOC area of the County.

l'Affine au Chablis
A truly regional speciality, l'Affiné au Chablis Germain cheese is a cow's milk that has a lightly gold-tinged rind revealing an incredibly soft and creamy centre.
Sourdough baguette
Irrewarra Bread of the ultimate French breadstick moment!
Tony's Chocolonely
100% ethically sourced, organic deliciousness.
Bellussi Prosecco
Sparkling delicious goodness to bring this hamper together!
*We will make decisions from our brand product range that will pair excellently with the other products in the hamper. If you would like a certain item from our range that you've seen on our website or socials, we will be more than happy to substitute a different flavour from the same product range.